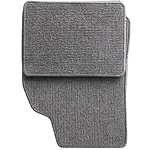 The floor inside your car can get quite messy. The driver's seat and all the passenger sections run the risk of everything from dirt, sand, mud, and ice being tracked inside. Thanks to the availability of floor mats, the problem might not be too much of a concern. At Gillman Mitsubishi, we offer carpeted and rubber floor mats to choose from. Which one is worth selecting, though?
If you notice you're always tracking a significant amount of dirt, rubber is probably better. If you drive a pickup truck and work in an off-road environment, rubber is perhaps better. The durability helps, and rubber is easier to clean the carpeting.
Carpet floor mats, however, can look quite nice. Options to purchase customized floor mats with initials and drawings on them exist. If you only deal with a light amount of dirt, carpet floor mats might be worthwhile.
Visit our dealership and look at all the accessories for sale. We have one of the best inventories in Selma.