What makes a car a good value? It's not just price. Smart car shoppers also look for comfort, safety, good features, and reliability, and they start at a dealership they can trust. A visit to Gillman Mitsubishi ticks all the right boxes since you'll find a friendly staff, excellent service, and the great value offered by the 2020 Mitsubishi Mirage.
Mitsubishi Mirage Details
This year's edition of the Mitsubishi Mirage looks a lot like last year's, both in terms of appearance and features. The only real change for 2020 is the addition of automatic climate control across all trim levels.
There are two different models on offer, the 2020 Mitsubishi Mirage (a hatchback, which also gains a new trim level this year) and the 2020 Mitsubishi Mirage G4 (a sedan), each with subtly different styling. While the hatch offers more cargo volume (as you'd expect), in many other respects both cars are evenly matched. Cost-conscious consumers will love the fact that the lighter curb weight and efficient engine return great fuel economy numbers, making for a lower long-term ownership cost.

2020 Mirage Special Features
The 2020 Mitsubishi Mirage and Mitsubishi Mirage GT offer the usual passive safety features we've come to expect. Because the model is new, we're still waiting for IIHS and NHTSA safety test results as of this writing.
New Mitsubishi cars have always featured a surprising amount of tech for the price, and this one's no exception. A backup camera, Bluetooth integration, USB port, and infotainment system are all standard. Go a bit further up the trim levels and you'll find an upgraded audio and infotainment system with Android Auto™ and Apple CarPlay®, plus pushbutton start and other features your Mitsubishi dealer near University City will be happy to show off.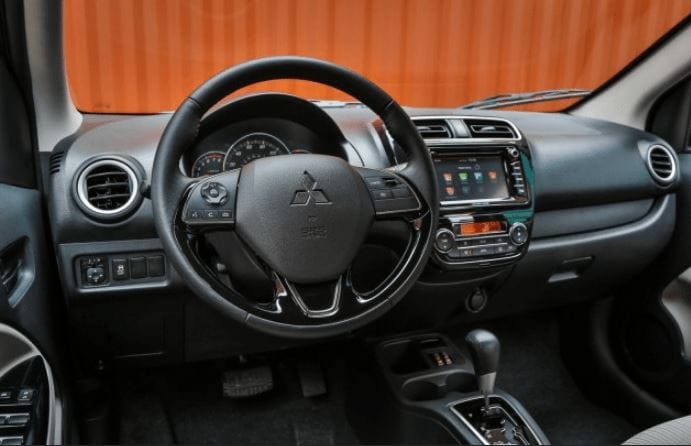 Lease a Mirage
Of course, you can't choose the best new car from a website. For that, you'll need a visit to your Mitsubishi dealership and a test drive. You can do just that at Gillman Mitsubishi. We're conveniently located at 16040 Interstate 35 North (just past 1604) in Selma, TX, so why not stop by today?